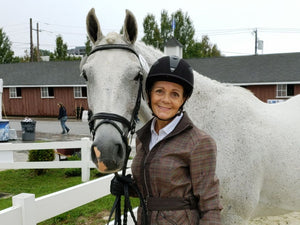 Equi-Energy Gems
As an artist and an equestrian, I am so excited to introduce my Equi-Energy Gems Mala Bracelets.  We all know that it takes hard work, as well as hours and hours of practice to successfully compete as an equestrian.  However, there is a third extremely important dimension, that we usually lose sight of...the power of positive thinking! 
I have created a powerful and symbolic wearable expression to draw upon the mental and psychological aspects of riding that are a strong and powerful tool for our success.
Harness the Energy
For over a year, I have researched and collected the most beautiful and powerful gemstones from all over the world.  Most importantly, I have collected these powerful gems in the coat colors of horses!  What better way to personalize your intentions. 
By selecting the "coat" color that most closely resonates with thoughts of your horse, you program and empower your brain to harness the limitless energy of the Universe to manifest your goals!
Read how to use your Equi-Energy Gems to trigger your brain here.

Domestically Hand Crafted
Our beautiful gemstones are sourced from all over the world and each piece is a work of art, lovingly refined and hand-crafted in the USA and filled with purpose and meaning. Comes in a gift bag and box with inspirational tag.